Tavelli Stampi
Since 1971, Tavelli F.lli Snc has been making use of its technical expertise to design and manufacture aluminium, Zamak and plastic die casting moulds, used in various sectors such as telecommunications, the automotive industry, electronics and the most recent market concerned with renewable energy. In recent years, the company has, in fact, equipped a department in its laboratory for the production of parts for solar inverters.
Knowledge and technological quality, expertise and passion have made this company a reliable point of reference in its field, recording significant growth over the years, both in terms of customers and internal staff, the latter currently numbering 19.
The company covers a total of about 1,500 m².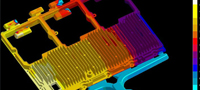 Programs used in the technical department:
CAD 2D Autocad
CAD 3D Delcam/Mechanical Desktop
CAD 3D Pro Engineer (CREO)
CAM WorkNC/Cut
The use of the latest CAD CAM...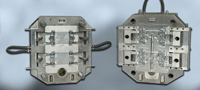 Once the design has been completed and shared with the customer, we proceed with manufacturing the equipment. For this, CAM programs are created which can then be sent to the respective machines for milling the components. Where possible, we always try to finish the part...